"Keep going, just like a…" he hollered, and I began to respond, even before he was finished speaking, having heard those words 'ad nauseum' my entire life, and as such, bellowed back on top of his words, "I can't, it's not working, I'm not a butterfly, and I told you already, I'm not good at this."
"Doesn't matter, just keep going, keep flapping your wings!" he said silently, though I heard him loud and clear, out of long habit.
I found this kind of encouragement from my father so frustrating when he was alive, believing him to be an optimistic fool, the kind of man who wouldn't know a brick wall if he ran smack into it, someone who actually believed in impossible dreams, achieved them, against all odds, then transferred such dumb luck into an unrealistic faith in me, his only daughter–a girl so ordinary that even bees didn't land on me, even if I wore bright yellow.
It was thirty years later, at the summit, as I took in the surreal view of pastel clouds and razor-sharp mountains, drinking in the thin, pure life-giving air, when I knew that he had been right all along, and that whether or not I beat the cancer viciously fighting against me, I would be victorious if I would only "keep going."
A sudden flash then, an epiphany even, as the saying on his office door, the one everyone read as they came inside to seek his advice in near droves–everyone except me, that is, for I had ignored it and his advice completely until now–pierced my vision, as if it were written across the surreal scene before me: Success is perseverance in disguise.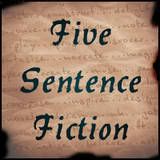 This Five Sentence Fiction post is a response to Lillie McFerrin's weekly one-word writing challenge. This week's word: perseverance. Click on the badge above to visit her site, access the link to other entries, and even add your own creativity to the mix.
It is my great honor to dedicate this post to my sister, Ellie, who fought valiantly against cancer for 16 years, and who never stopped trying to encourage me daily to seek my wildest dreams and embrace my writing passion fully. I love you sis.
photo copyright Britton Minor and The Jaded Lens Photography. All rights reserved.