It wasn't that she didn't have a green thumb, it was just that she was a "Jack of all Trades" and it was impossible to keep up with all the things that she could possibly be great at some day, given enough time and space to spread her wings. At least this is what she told herself over and over again, and especially any time that self-doubt did not have its way with her. Mastery was not her forte, and yet she craved it just like she craved a best-seller, a number one hit, and the perfect body.
So when her mother's African Violet began to fade away (only one small bunch even slightly green) while an oxygen machine was the only thing sustaining eighty-four years of life, she chalked it up to one more thing that did not get her full attention, versus the failure that it should have been.
Imagine her surprise one day, a few months after her mother's death, when that damned dying African Violet decided to be wild and bloom like nobody's business, despite a lack of bloom food, despite a "green-thumb" caretaker, and despite the nagging mourning of the daughter who, as it turned out, needed those little purple flowers to bloom more than she could have possibly known.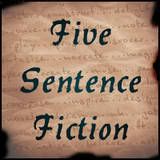 Tweet